0
Childhood Cancer Awareness Month: Izabella's Story (Video)
Meet our September Patient of the Month, Izabella. Growing up, Izabella was a very active child; from soccer to baseball, she loved to play outside. One day, her dad noticed her limping after a soccer game. Later on at home, he took a closer look at her leg and noticed that her knee was swollen. They brought her to
Nicklaus Children's Hospital
(formerly Miami Children's Hospital), where she received an MRI. When the results came back, Izabella's parents were told the dreadful news - she had osteosarcoma. Bone cancer.
After starting chemo at Nicklaus Children's Hospital, Izabella underwent surgery to remove the bones affected by the cancer, which included her knee and part of her femur. An extendable prosthesis was placed in her leg, which will allow her leg to grow at the same rate as the other. She is now recovering from her treatment and going to therapy to be able to start walking again.
Izabella's story is the latest in a series of
Patient of the Month
videos I've been producing for
Miami Children's Health Foundation
(MCHF) for the past several years. MCHF helps raise funds and awareness for Nicklaus Children's Hospital. Over the years, I've been fortunate to meet several remarkable children and families and help tell their stories. It's been one of the most rewarding experiences of my professional video career. Here's Izabella's story...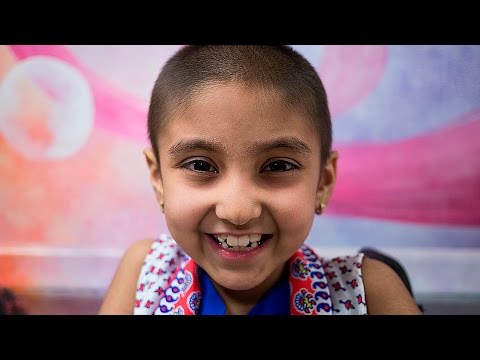 This week, Izabella (who's quite the fashionista) will walk the runway at the 4th Annual
Fashion Gives Back
, an event created by
Miami Children's Young Ambassadors
(MCYA) that helps raise funds and awareness for Miami Children's Health Foundation. Moreover, September is
Childhood Cancer Awareness Month
and according to the American Cancer Society, more than 10,000 U.S. children under the age of 15 will be diagnosed with cancer this year; approximately 1/4 of them will not survive the disease.
To help children like Izabella and assist in the fight to end childhood cancer, please visit
www.mchf.org/donate
.
Here's the information on Fashion Gives Back - a night of fashion and cocktails inviting the community to come together for the children...